For the longest time people have been wondering "how can I add a little info to my signup?" Potluck signups want to brag about their world-famous chili, and sometimes you just want to express how pumped you are for the upcoming fundraiser. Look no further: we've added a comment field to the signup process.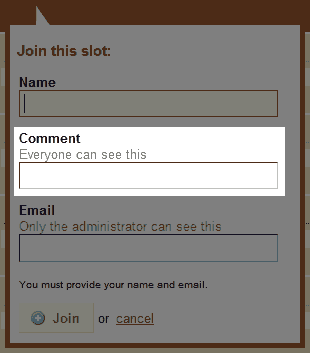 Team Wejoinin wrestled long and hard over how best to allow you guys  to provide some extra info on the signup sheet while keeping it simple enough that even my mom could use it. (Hi Mom!) After some thought, we ended up going with a free-form comment box, and sheet authors can just use the sheet description if there are any specific needs for the comment box. (So now you lovely pot-luckers, ask people to describe what they're bringing in the signup comment and all should be well!)
And finally, thanks for all the feedback guys! We can't read minds all to well, so we love hearing your raves and gripes!